Step-by- step
A complete guide to registration of interest, registration and payment :
Before registration – registration of interest:
1. Visit www.vatternrundan.se and press My Pages in the left column.

2. a) I have an account – login to My Pages with your customer number and password.
b) I don't have an account – press "New customer" and create an account. Then log into My Pages.
c ) Have you changed your email address – contact info@vatternrundan.se!
d ) If you have any questions – contact the office at +46 141 – 22 32 90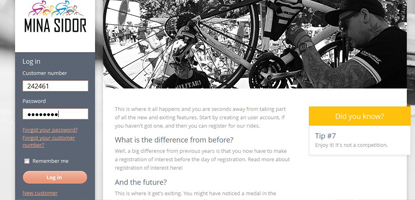 3. Press the "To registration" under" Registration is open for Vätternrundan 2014."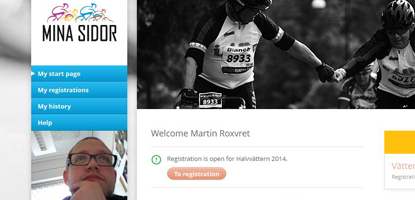 4. Choose whether to create a new group, join a group or to sign up yourself.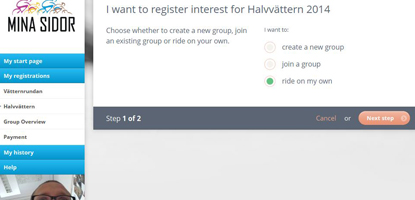 5. a) If you choose to create a new group – fill in the group name.
b ) If you choose to join a group, you must get the registration code from the group leader. After receiving the registration code, you must go to My Pages to accept your place.
c ) If you choose to ride by yourself, just go ahead.
6. As a group leader you are responsible to not confirm the registration (see paragraph 1 below) before all participants have joined the group. You can also close the group with the padlock icon and you can also remove participants on the trash bin icon.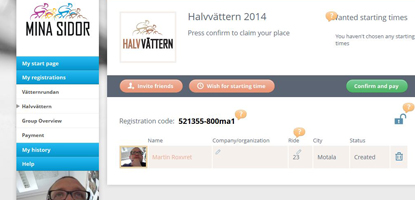 7. After these steps the registration of interest is made and you/the group leader can see your/the group's registration code.
8. NOTE! Registration of interest closes at October 31th at 24.00. Before that you must have registered interest to have the opportunity to register on November 4th at 19.00.
9. At My pages you (if you register as a solo rider) or the group leader (if you register as a group) can wish start times within one hour intervals. You can also see who is registered to a specific group.