Pick up your number bib no later than 60 minutes before your start, at the Expo Area. Please arrive in good time as the queues may be long. Bring your printed start card, or have it available in your Smartphone, to the bib number distribution at the Expo Area. The start card is available on My Pages first days of June. 
Every participant receives two number bibs, one for the jersey and one for the bike. The number for the jersey is attached to the front with safety pins. The bicycle number is attached to the front of the bike with the cable ties. The ride number on your jersey should be plainly visible at the start and at the finish, where you will be photographed.
Please fill in your medical information on the reverse side of the bib number worn on the jersey. Bring some form of identification during the ride.
After you have picked up the number bib, you will receive a bag which contains safety pins, cable ties and some information about the ride.
The sponsor name on the ride number is the main sponsor of the event.
Anniversary events
Participants cycling an anniversary event (their 5th, 10th, 15th, etc) receive a special sticker to attach to their bib number. At the finish, these cyclists also receive an anniversary medal from the officials.
Please note, to receive an anniversay sticker, you must specify the number of events you have participated in when registering.
If you are participating in an anniversay event and you have not received a sticker, please contact the information desk at the Expo Area.
Special coloured ride numbers
Vätternrundan's pioneers (cyclists who have particpated in every event since the beginning) wear a bib number with yellow background.
Vätternrundan's veterans (cyclists who have participated in at least 25 events) wear a bib number with blue background.
Tie-on number bibs
Unmarked polyester bibs with tie-on ribbons can be purchased at the Stadium tent near the harbor. Use this if you prefer not to attach your ride number to your clothing. Price: 40 SEK.
Timing chip
Every cyclist receives an electronic timing chip together with the bib number. Your chip contains personal information, so it is important that you use your own chip. Please, check that the information stored on your chip is correct at the dedicated terminals in the Expo Area.
Please attach the chip (a sticker) at the right side of your helmet, just above the ear. Remove all previous stickers from the helmet to avoid inteference. Your timing chip will be automatically registered at the start and finish as well as at certain checkpoints.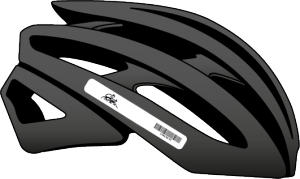 Checkpoints for time registration
MTB-Vättern 50 km: Start – Motala Idrottspark – Oakley hill – Finish
MTB-Vättern 25 km: Start – Finish
Tjejvättern 100 km: Start – Stocklycke – Skänninge – Finish
Vätternrundan 100 km: Start – Stocklycke – Skänninge – Finish
Halvvättern 150 km: Start – Stocklycke – Boet – Skänninge – Finish
Vätternrundan 315 km: Start – Ödeshög – Jönköping – Hjo – Karlsborg – Bona- Finish